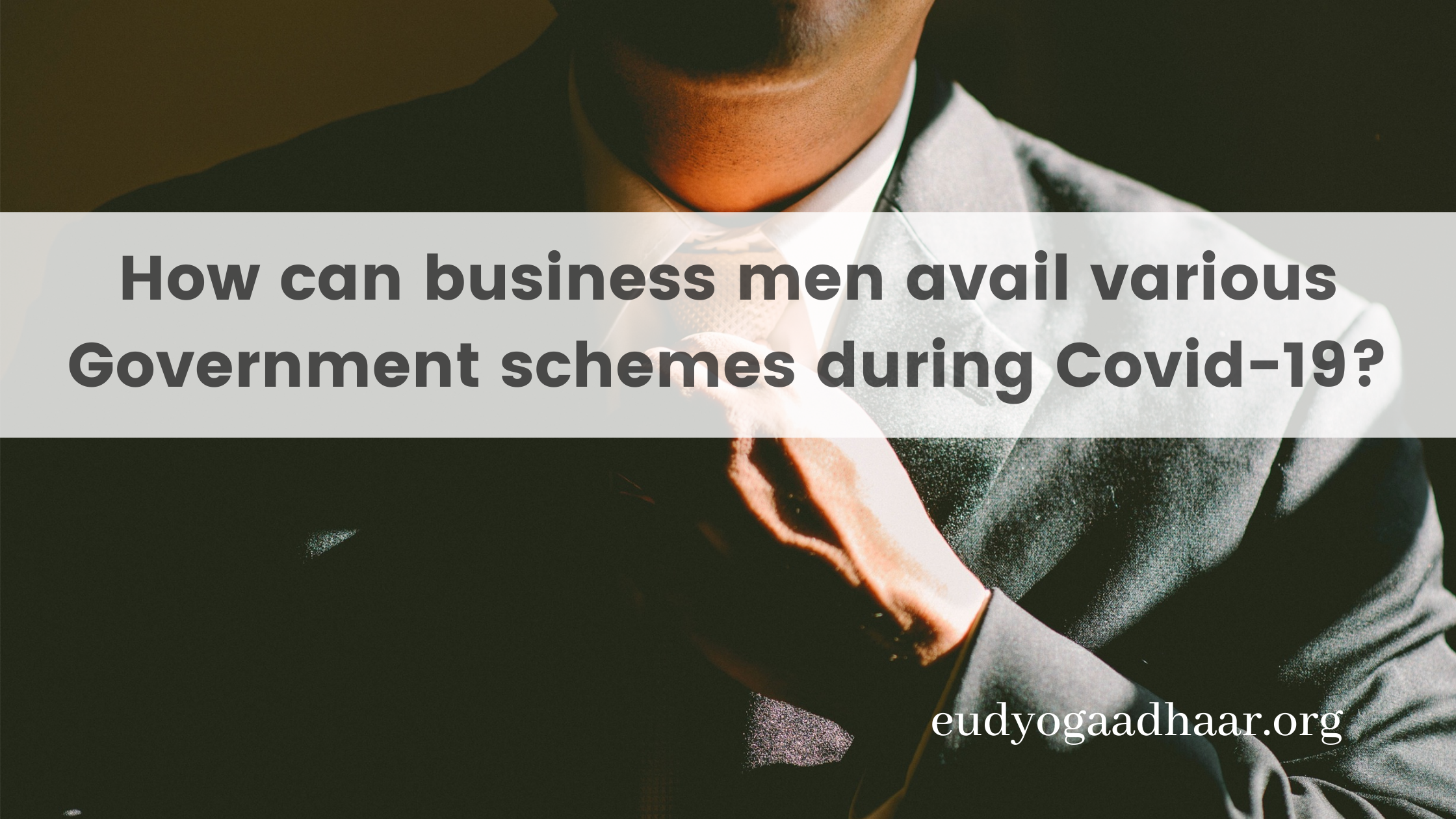 How can business men avail various Government schemes during Covid-19?
Till now, India has 68,380 cases with more than 9886 deaths. The lockdown has also been extended to 3 May, 2020 by the Narendra Modi led Government. A country with a population of 1.3 billion will require a systematic approach so as to minimize the damage arising because of covid-19 breakout. To provide daily essentials to these 1.3 billion people is a really big challenge for the Indian Government along with reviving the economy once this pandemic dies down.

Amongst this global crisis, the Indian Government and the private and public sector can ramp up their efforts to gain rather than loose.


What are the various schemes launched by the government to help businesses and small traders?
The Indian government has launched, upgraded and revised a number of schemes to help small businessmen and traders in India. A brief look into some of these are as follows:-
India is a developing economy with a number of startups launching every month. They increase the employment rate of a country. These budding startups are facing various issues regarding their financial requirements for their growth. The Government of India is proactively taking various steps to help the business and startups impacted by covid-19.
SIDBI or (Small Industries Development Bank of India) has been making efforts to provide financial stability and assistance to search startups through schemes like covid-19 startup assistant scheme (CSAS).
The objective of this game is to provide quick working capital to the startups in the next 45 to 90 days. Startups can receive a loan of up to rupees to 2 crores.
The last date for filing income tax returns has been extended to 30 June 2020. The declaration and payment under the Vivad se Vishwas scheme has also been extended to 30 June, 2020 and can be made without any additional payments.
The Government has also extended the last date of furnishing indirect taxes such as central excise returns due in March, April and May 20 20 to 30 June, 2020.
PM CARES Fund (Prime Ministers Citizen Assistance and Relief in Emergency Situations fund) has been set up for providing relief to those affected by covid-19. Hence, donations made under this scheme are eligible for 100% deduction under section 80G of the IT (Income Tax) Act.
Schemes such as "Companies Fresh Start Scheme, 2020" and "LLP Settlement Scheme, 2020" have been introduced by the Ministry of Corporate Affairs" to give longer time lines to these corporates to comply with various filing requirements and procedures. However, it is to be noted here that the immunity is only against delayed filings and not against any substantive violation of law.
A video conference was held with food processing industries on task force in which the representatives have urged to improve the transport facility. It is further urged that "kirana stores" be allowed to open across the country to ensure food supply. Hence, in this way the local traders and retailers can carry on business even in this lockdown. The COVID-19 pandemic has created havoc in the country's economy and has put the businesses in a tight situation but if the Government takes proper measures then it could reduce the blow to these MSMEs, small traders and businessmen.
If you are looking for msme registration certificate then fill the easy form and proceed with the payment. All the startups and existing business owners can now register on eudyogaadhaar.org, which is a quick and simple single-window system for registration. Take our help for Udyam registration online with us. There is no need for documents or proof, just fill the form with your business details and Aadhaar number. In 1-2 hr you will receive your Udyam certificate online on your registered email.

Don't wait anymore to get all the Government benefits like MSME loan, small industry subsidy, certification concession. Apply for Udyam registration now!
MSME REGISTRATION PROCEDURE - FAST AND EASY..!!

Fill the MSME application form

Make online payment to confirm your application

Our executive will process your application

Certificate will be sent to e-mail id
This website is a property of a consultancy firm, providing consultancy services w.r.t. MSME / Udyog Aadhaar Registration.
We expressively declare that we are private consultants. We have no relation or we do not represent any government official or any government department such as MSME deptartment, etc.
SECURED BY SSL
Payment Methods