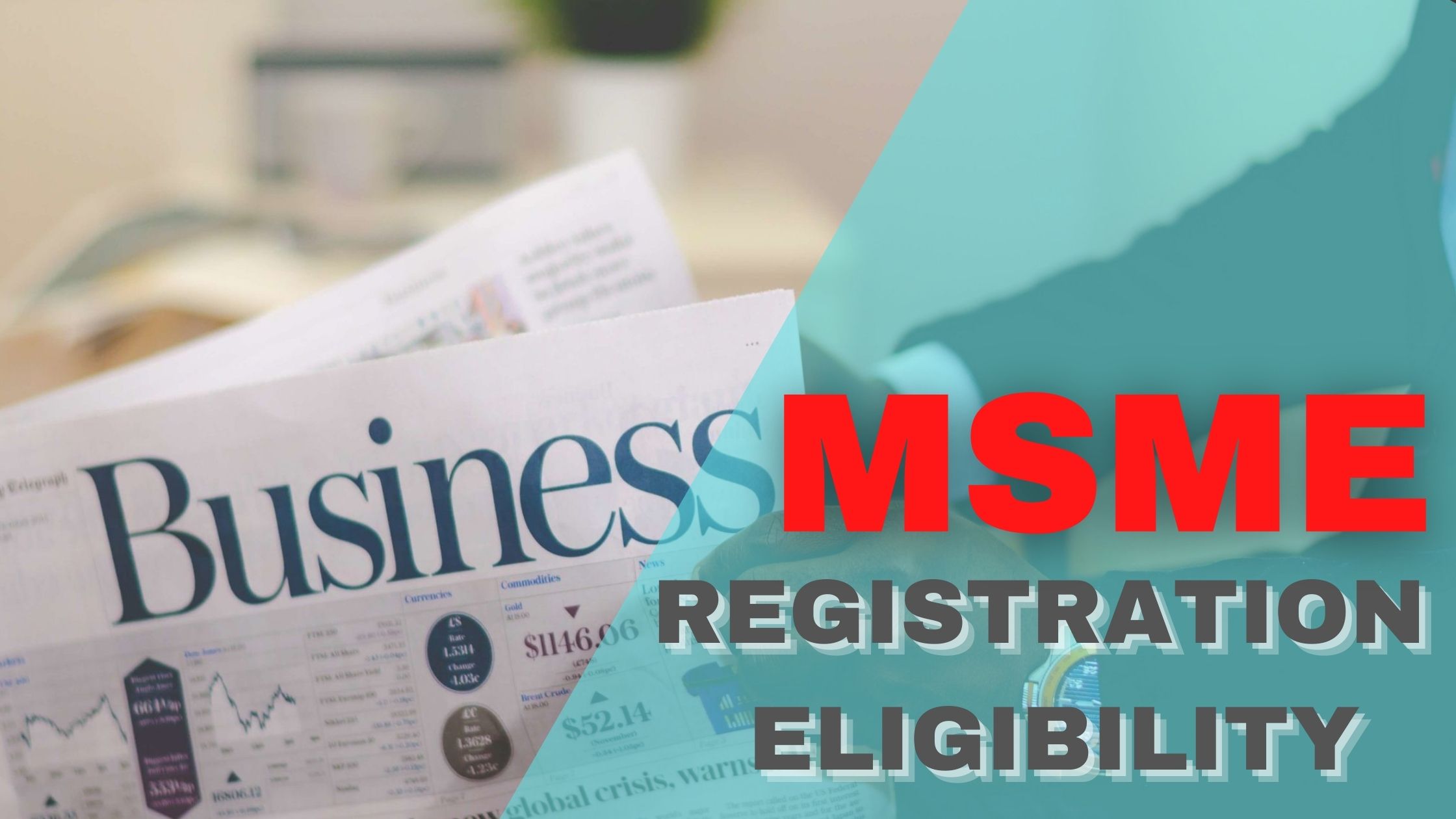 MSME Registration Eligibility
Here on eudyogaadhaar.org, we have explained the eligibility for MSME registration for service and manufacturing or production unit.

MSME definition was revised and approved by the Union cabinet to upscale the growth of small business companies.

The MSME new definition was redefined on the basis of Investment and turnover size.

Initially, there was a difference between manufacturing and service enterprises for both investment and annual turnover amounts. But now the difference between the manufacturing and service enterprise has been eliminated by making the investment and turnover similar for enterprises engaged in both sectors.

Eudyogaadhaar.org mentioned the new classification of MSME in the table.

MSME Classification
Turnover & Investment in plant and machinery or equipment the following criteria is declared by the Ministry of MSME.

Microenterprise units : Enterprise with investment up to Rs 1 crore with a turnover of less than 5 crores will now be called small enterprise units.

Small enterprise units : Enterprise with investment up to Rs 10 crore with a turnover of less than 50 crores will now be called small enterprise units.

Medium enterprise units : Enterprises with investments up to Rs 50 crore with a turnover of less than Rs 250 crore will now be called Medium units.
| Enterprise | Turnover | Investment |
| --- | --- | --- |
| Micro | Not more than 5 Cr. | Not more than 1 Cr. |
| Small | Not more than 50 Cr. | Not more than 10 Cr. |
| Medium | Not more than 250 Cr. | Not more than 50 Cr. |
Finance Minister Nirmala Sitharaman even announced new schemes and economic measures under the Rs 20 lakh crore Atmanirbhar Bharat Abhiyaan to revive the economy of India amid the COVID-19 pandemic.

In order to take advantage of these schemes and benefits from the ministry of MSME, one has to register their business under MSME. Some more benefits are mentioned below if a business owner gets an MSME certificate.
Benefits of Taking MSME Certificate
Interest rate Subsidy on Bank loans
Collateral free loans from banks
Protection against delayed payments, against material/services supplied
Special beneficial reservation policies in the manufacturing/ production sector
Ease of obtaining registrations, licenses, and approvals.
MSME Registered entity gets eligible for CLCSS (credit linked capital subsidy scheme)
International trade fair special consideration
Government security deposit (EMD) waiver (Useful while participating tenders)
Electricity bills concession
Stamp duty and registration fees waiver
ISO certification fees reimbursement
Direct tax laws rules exemption
NSIC performance and credit rating fees subsidy
Patent registration subsidy
Barcode registration subsidy
Industrial Promotion Subsidy (IPS) Subsidy Eligibility
MSME Registration Process on Eudyogaadhaar.org
Eudyogaadhaar.org makes the process for MSME registration very simple and user-friendly. The online registration process of MSME is simple for any business individual as follows:

Step 1: Visit the MSME Registration portal

Step 2: Fill all the details on MSME Registration Form, like aadhaar number, name, and address

Step 3: Make the online payment for your MSME Registration Application

Step 4: One of our registration experts will process your MSME Registration application

Step 5: In 1-2 hours you will receive your MSME Registration e-certificate at your registered e-mail address.

Above we have mentioned various benefits of getting an MSME registration certificate for your business. The online registration MSME process is very simple it's a paperless process with no uploading or submitting of documents required anymore.


If you want to re-register in MSME Portal, as you know the registration process will be called as Udyam Registration, please visit the link given below
Udyam Registration for Proprietor
Udyam Registration for Pvt Limited Company
Udyam Registration for Partnership Firm
Udyam Registration for Pubic Limited Company
Udyam Registration for Others
Follow us on
Facebook
for latest news and updates.
MSME REGISTRATION PROCEDURE - FAST AND EASY..!!

Fill the MSME application form

Make online payment to confirm your application

Our executive will process your application

Certificate will be sent to e-mail id
This website is a property of a consultancy firm, providing consultancy services w.r.t. MSME / Udyog Aadhaar Registration.
We expressively declare that we are private consultants. We have no relation or we do not represent any government official or any government department such as MSME deptartment, etc.
SECURED BY SSL
Payment Methods