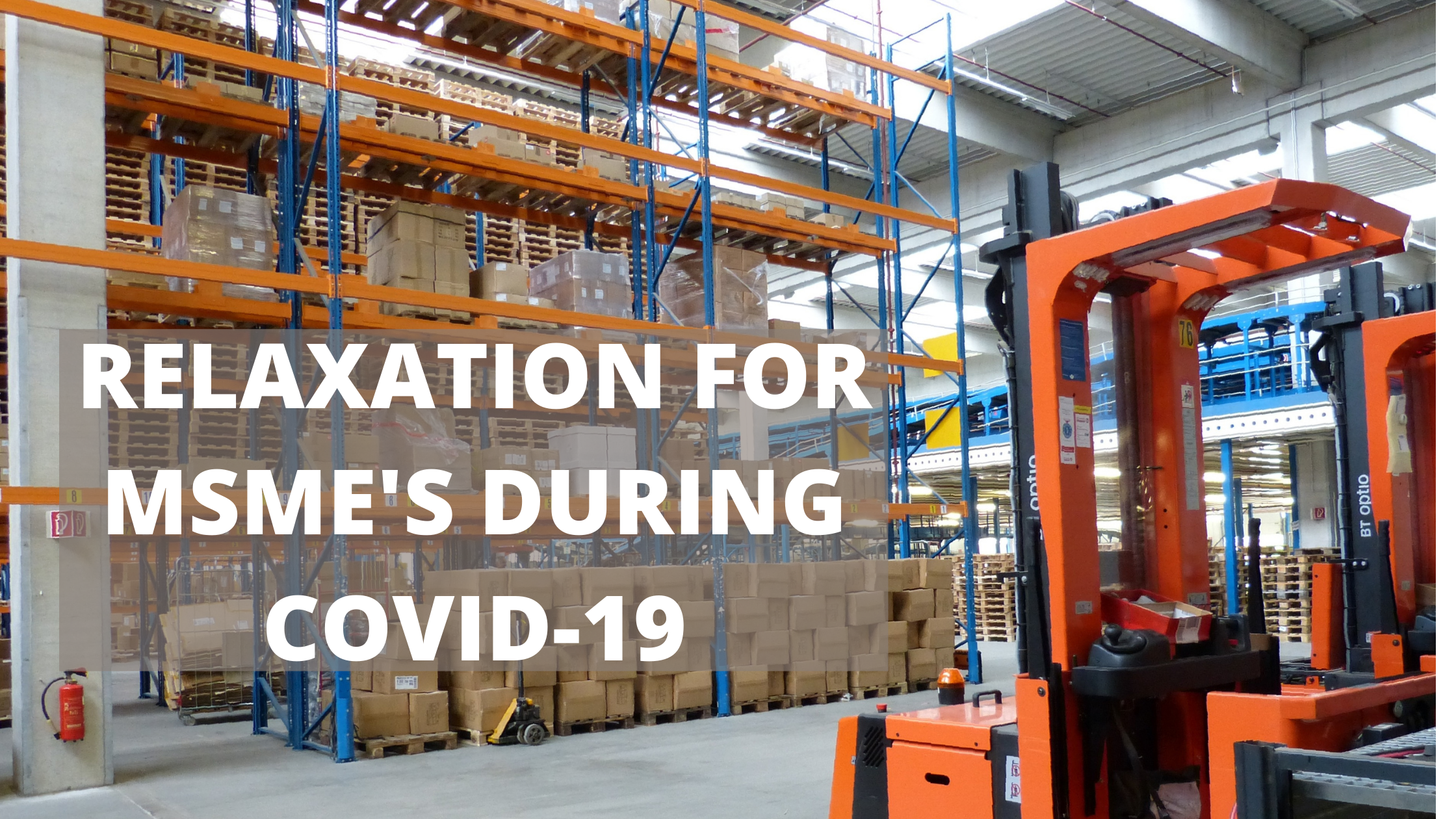 RELAXATION FOR MSME'S DURING COVID-19
The covid-19 pandemic has already reached 2nd stage in India and will probably reach the third stage very soon where it will transfer from cluster to community. A developing country like India may suffer an economic crisis where most of the GDP comes from these MSME sectors. In this crisis, the MSME sectors needed various schemes to help with their financial problems.

The Indian government has introduced a number of schemes and announced various relief packages for the MSME sectors. Businesses and small sectors have been taking serious hits amongst this lockdown. The Government and the Reserve Bank of India (RBI) have come up with relief packages of rupees 1 lakh crores and rupees 50,000 cross respectively to solve the liquidity and financial problems of these sectors. It is said that these relief packages will make an impact not only on the lenders but on the borrowers as well.

It is said that the coronavirus crisis is likely to end in the next three to six months but it will take a long time for the industry and economy to recover from this recession period. According to Satish Marathe (veteran cooperative and RBI Central Board director) said that this is an exceptional crisis and will require an exceptional response. He also said that these measures are temporary or will only help the economy in the short term and it may or may not yield desired results as the lockdown has been extended further. In India,a business is run with the help of 'bank credit' as opposed to 'capital' in a developed economy however the Government has cleared that they are making more efforts and more schemes are under proposition to help the MSME sectors.
What are the steps taken by the Indian government through which the MSME sector can relax and be productive?
The MSME sectors have clearly stated that they need Government support to keep these MSME units open. Most of these MSME sectors have accepted the Government's decision to allow selected manufacturing units to reopen on April 20. Although some have said that lack of financial support from the Government will not help as they will not be able to keep running even after reopening.

Therefore, to ease out the liquidity crisis Nitin Gadkari and RBI have announced a relief package. He also stated that the unpaid dues of MSME both at the Central and state levels will be released at the earliest which will inject upto rupees 40,000 crores to rupees 50,000 crores into the market.

Finance minister Nirmala Sitharaman has further stated that the date of filing income tax returns has been extended to June 30 along with GST returns. Penalties for late payment have also been removed. Moreover, various schemes introduced by SBI ( State Bank of India), SIDBI (Small Industries Development Bank of India) and other public sector banks are aiming to provide further relaxation to these MSME sectors. The MSME minister has also suggested opening of MSME units in areas not affected by covid-19. The government is also under the discussion of easing out the pain of these sectors that includes both financial and non financial measures.
New Definition of MSME under Udyam
Micro units
: MSMEs will now be called Micro units if they have investments upto Rs 1 crore and turnover of less than Rs 5 crore. The definition earlier was on investment criteria of up to Rs 10 lakh for Service MSMEs earlier and Rs 25 lakh or manufacturing.
Small units
: For an MSME to be defined as a Small unit, its investment limit has been raised from Rs 5 crore to Rs 10 crore with a turnover of less than 50 crore. This applies to all MSMEs including the Service enterprises which earlier came under investment of up to Rs 2 crore.
Medium units
: Enterprises with investments up to Rs 50 crore with a turnover of less than Rs 250 crore will now be called Medium units. Earlier, the investment limit for Medium units was up to Rs 10 crore and Service enterprises up to Rs 5 crore.
| Enterprise | Turnover | Investment |
| --- | --- | --- |
| Micro | Not more than 5 Cr. | Not more than 1 Cr. |
| Small | Not more than 50 Cr. | Not more than 10 Cr. |
| Medium | Not more than 250 Cr. | Not more than 50 Cr. |
If you are looking for msme registration certificate then fill the easy form and proceed with the payment. You will get the certificate within 24 hours in your email.
About us eudyogaadhaar.org
We are private consultant professionals who are very well versed with the MSME/ Udyog Aadhaar/ Udyam of processes for small or medium enterprises business registration and certification according to the government of India rules. We continuously work to empower Indian businesses and make their government official work simple and easy.

Eudyogaadhaar.org is an ISO certified private consultant company in India and have several years of experience in doing MSME/Udyam Registration. We are Trusted Customer support team is very helpful and helps our clients in each and every level of registration. Our company's objective is to provide the best online MSME/ Udyog Aadhar/ Udyam services to our clients and save them from a time-consuming process.

You can free to reach our registration executive 24*7 customer support team through filing the complaint form at eudyogaadhaar.org and we will then reply to you shortly with the solution.

Follow us on Facebook for latest news and updates.
MSME REGISTRATION PROCEDURE - FAST AND EASY..!!

Fill the MSME application form

Make online payment to confirm your application

Our executive will process your application

Certificate will be sent to e-mail id
This website is a property of a consultancy firm, providing consultancy services w.r.t. MSME / Udyog Aadhaar Registration.
We expressively declare that we are private consultants. We have no relation or we do not represent any government official or any government department such as MSME deptartment, etc.
SECURED BY SSL
Payment Methods