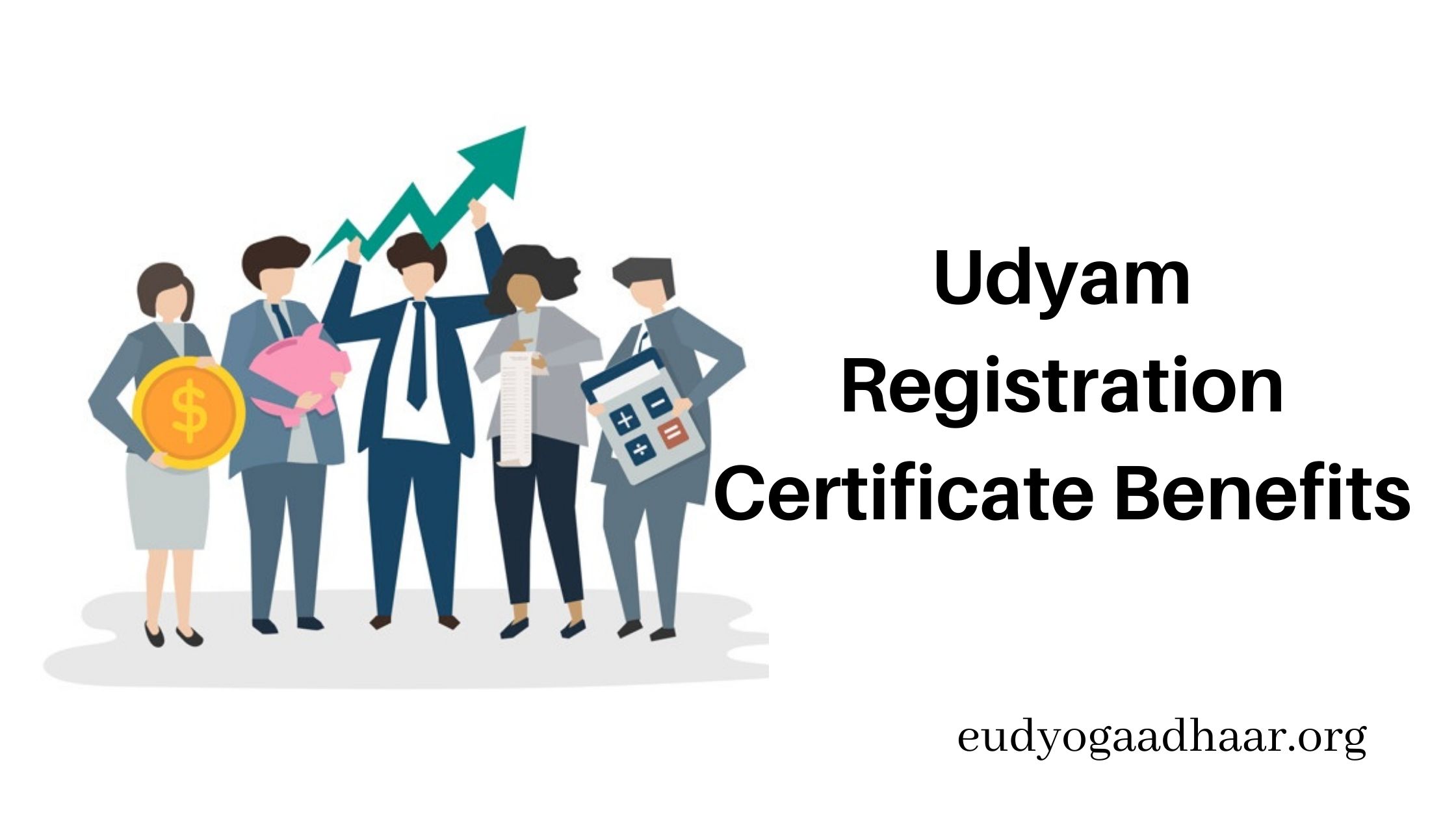 Udyam Registration Certificate Benefits
Today on eudyogaadhaar.org we are going to tell you the benefits of Udyam registration certificate, the new process declared by the Ministry of Micro small-medium enterprises. The industry base has simplified the process and documentation for MSME registration. The registration form of Udyam is of one page, which is very easy to fill on the Udyam registration portal. By registering in Udyam, a small and small scale industry gets the benefit of all the facilities provided by the government.
MSME Udyam registration number is a unique 12-digit government identification number provided by the Ministry of MSME for small and medium enterprises to register as MSME. Registration of Udyam is done through online medium, it does not require any documents, one or more business enterprises can be easily registered, so it is free of cost to register Udyam.
Benefits of Udyam Registration
By registering in the industry base, the business gets benefits such as:
Benefits from banks: All banks and other financial institutions give priority to MSMEs and make special plans for them. This usually includes priority sector lending, which means your business can easily get a loan and incur lower bank interest rates. You may also get a stay in case of a delay in repayment.

Tax benefits: Depending on your industry, you may get the benefit of the Excise Exemption Scheme or you may get a direct tax exemption in the initial years.

Benefits of the State Governments:The State Government gives subsidy on electricity, tax and entry to the businesses which are associated with the industry base and the State Government gives them exemption in sales tax and purchase preference for the goods left by them.

Benefit from the Central Government: The Center has introduced Credit Guarantee Scheme, Atmanirbhar Bharat, Zero Effect Zero Defect, Quality Management Standards and Quality Technology Tools, Women Entrepreneur, Hip Incubation, etc to benefit the MSME sector. Central and State Government Extended Credit Facilities.

Industrial extension support and services, availability of developed sites for warehouse construction, provision of training facilities, assistance in marketing both in and outside the country (exports), assistance for building industries in under developed areas, for technology development in MSMEs Technical consultancy, capital support, and so on.
Other Benefits of Udyam Registration Certificate
Other benefits to the industry base are as follows:
Quick resolution of disputes
Special consideration for participation in the international trade fair
Octoi advantage
Stamp duty and registration fee waiver
Several exemptions under direct tax laws
Barcode Registration Subsidy
Subsidy on NSIC performance and credit rating
Counter Guarantee from Government of India through CGSTI
Low rate of interest from banks
15% subsidy under CLCSS scheme for technology upgradation
Waiver while applying for government tenders
Electricity bills rebate
Reimbursement of payments made for obtaining ISO certification
For optimum reasons, by raising the eligible loan limit from the amount of Rs. 25 lakh to Rs. 50 million
Increase the guarantee cover limit from 75% to 80%
Reservation of products for special manufacturing by MSME / SSI
Easy registration and approval for obtaining a license
Eligible for IPS subsidy
Priority in allocation of government tenders
Excise duty exemption scheme
50% subsidy for patent registration
The administration is taking extreme care of the MSME sector to improve the economic and social situation, in addition to the benefits listed above, lending more credit to lower funding costs to support the sector. Therefore you should consider getting an industry base entry or MSME Udyam registration at the earliest opportunity for your business in India to avail all the benefits given to micro, small and medium scale businesses under various government schemes.

The government is itself encouraging Indians to invest in MSME. In Corona lockdown, the Government of India has said to distribute 3 lakh crore rupees as loan for the growth of MSME sector. That is, many types of loans under MSME will be distributed in the coming few months. If you are already associated with an MSME Business then you can benefit and if you want to set up a new industry, then you can also get benefits. To set up MSME Business you just need to have a good business model. The government helps you to a great extent for business.

All the startups and existing business owners can now register on eudyogaadhaar.org, which is a quick and simple single-window system for registration. Take our help for Udyam registration online with us. There is no need for documents or proof, just fill the form with your business details and Aadhaar number. In 1-2 hr you will receive your Udyam certificate online on your registered email.

Don't wait anymore to get all the Government benefits like MSME loan, small industry subsidy, certification concession. Apply for Udyam registration now!
MSME REGISTRATION PROCEDURE - FAST AND EASY..!!

Fill the MSME application form

Make online payment to confirm your application

Our executive will process your application

Certificate will be sent to e-mail id
This website is a property of a consultancy firm, providing consultancy services w.r.t. MSME / Udyog Aadhaar Registration.
We expressively declare that we are private consultants. We have no relation or we do not represent any government official or any government department such as MSME deptartment, etc.
SECURED BY SSL
Payment Methods