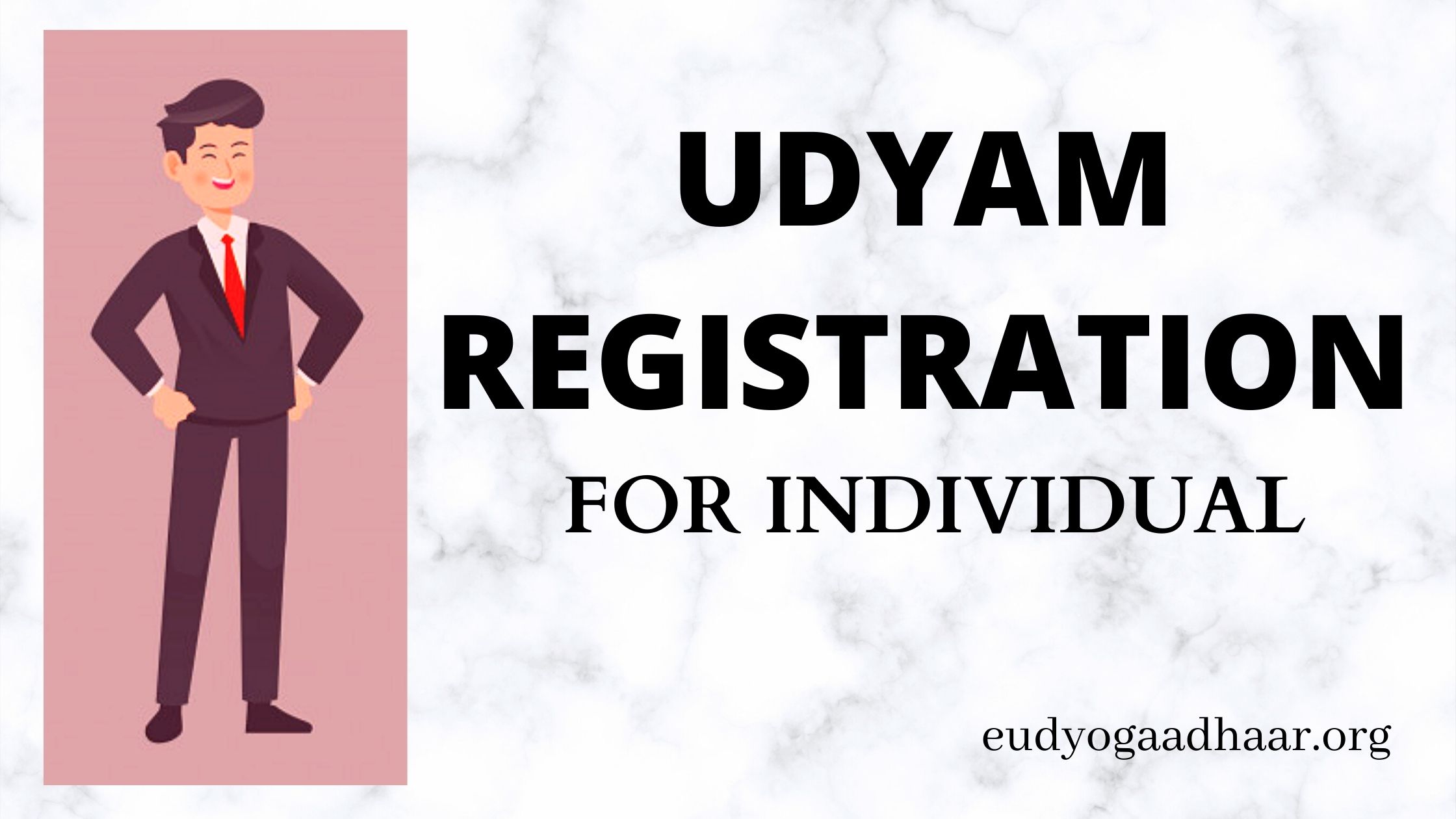 Udyam Registration For Individual
The Government of India declared a notification on July 1, 2020, for classifying the enterprises as micro, small and medium enterprises (MSME) and specified the form and procedure for filing the new memorandum known as 'Udyam', and its Registration Process will be known as 'Udyam Registration'.

And as per the Ministry of MSME, every business unit previously registered under MSME / Udyog Aadhaar shall be treated as a valid MSME up to 31st March 2021.

And all the existing MSME enterprises must register/convert on or before 31st March 2021 to enjoy the MSME Benefits.
What Is Udyam Registration? When Was It Established?
Udyam Registration is a new process for enterprise registration under MSME. The new MSME Udyam registration process is fully online and is based on self-declaration. No documents are required to register. The new portal is known as the Udyam registration portal.

After the Udyam registration, registered enterprises are given a registration number which is known as Udyam registration number (URN).

The Udyam portal was established on July 1, 2020. Any enterprise can do the registration process under MSME through this Udyam portal.
New Definition of MSME
Earlier, the MSMEs were defined on the basis of investments only, now the revised definitions will also include both turnover and investment of the company.
New Criteria for Classification of MSME - Micro, Small And Medium Enterprises
An enterprise will now be classified as a Micro, Small and Medium Enterprises on the basis of the following new criteria mentioned below:
| Enterprises | Investment in plant & machinery/equipment |
| --- | --- |
| Micro Enterprises | The investment in plant & machinery/ equipment does not exceed Rs 1 Cr and turnover does not exceed Rs 5 Cr. |
| Small Enterprises | The investment in plant & machinery/ equipment does not exceed Rs 10 Cr and turnover does not exceed Rs 50 Cr. |
| Medium Enterprises | The investment in plant & machinery/ equipment does not exceed Rs 50 Cr and turnover does not exceed Rs 250 Cr. |
Benefits of Udyam Registration for Individual
There are many benefits for an individual for registering under new MSME Udyam. The Indian government is focusing on the growth of small-medium enterprises. A few of the Udyam benefits are listed below.


Udyam registration helps in getting Government tenders
Helps in getting low-Interest rate subsidy on bank loans
15% import subsidy on fully automatic machinery on bank loans
Registered Udyam MSME, the enterprise gets tariff subsidies
Collateral free loans from financial institutes and banks
Protection against delayed payments
Exceptional beneficial reservation policies in the manufacturing/ production sector
Ease of obtaining registrations, licenses and approvals.
MSME Udyam registered entity gets eligible for CLCSS (credit linked capital subsidy scheme)
International trade fair special consideration
Government security deposit (EMD) waiver
Electricity bills concession
Stamp duty and registration fees waiver
Compensation on ISO certification
Direct tax laws rules exemption
NSIC performance and credit rating fees subsidy
Patent registration subsidy
Barcode registration subsidy
Industrial Promotion Subsidy (IPS) Subsidy Eligibility
Documents required for Udyam Registration for Individual
These are the important documents that are required for Udyam registration on the government portal:


Individual Aadhaar Number
PAN Number
GSTIN Number
Key Highlight of Udyam Registration
Fully online process Aadhaar OTP based system
It is a single-window registration portal
No documents need to be uploaded
No official Registration Fees, No Hidden Charges, No Bribe
On Submission, instant registration no. is generated
Udyam Registration Certificate (URC) will have a dynamic QR Code
Lifetime Valid certificate
No renewal of Registration
Any enterprise can file Udyam Registration only once
With one Aadhaar Number, only one Udyam registration is possible
Enterprises who have Entrepreneur Memorandum or Udyog Aadhaar Memorandum registration certificate or any other registration issued by under the Ministry of MSME will also have to re-register themselves
Individual Apply for Udyam Registration Today!
Now, you must have understood the significance of having a valid Udyam Registration Certificate for your business.

The Udyam Registration online process is easy, free of cost, and non-complicated as the only legal document required to register a trade under the Ministry of MSME, UDYAM is the Aadhaar card which makes the process extremely fast.

However, it is important to fill the Udyam online form carefully and avoid any mistakes. An Udyam certificate makes sure that the business firm utilizes all the advantages the government provides to MSME.

You can visit https://eudyogaadhaar.org/ for getting your business registered under Udyam, a professional team that will take care of your Udyam online registration process work at reasonable fees.

There is an enquiry form hosted on the website https://eudyogaadhaar.org/, if you need any help you may submit your contact details & our experts will call you back.


MSME REGISTRATION PROCEDURE - FAST AND EASY..!!

Fill the MSME application form

Make online payment to confirm your application

Our executive will process your application

Certificate will be sent to e-mail id
This website is a property of a consultancy firm, providing consultancy services w.r.t. MSME / Udyog Aadhaar Registration.
We expressively declare that we are private consultants. We have no relation or we do not represent any government official or any government department such as MSME deptartment, etc.
SECURED BY SSL
Payment Methods