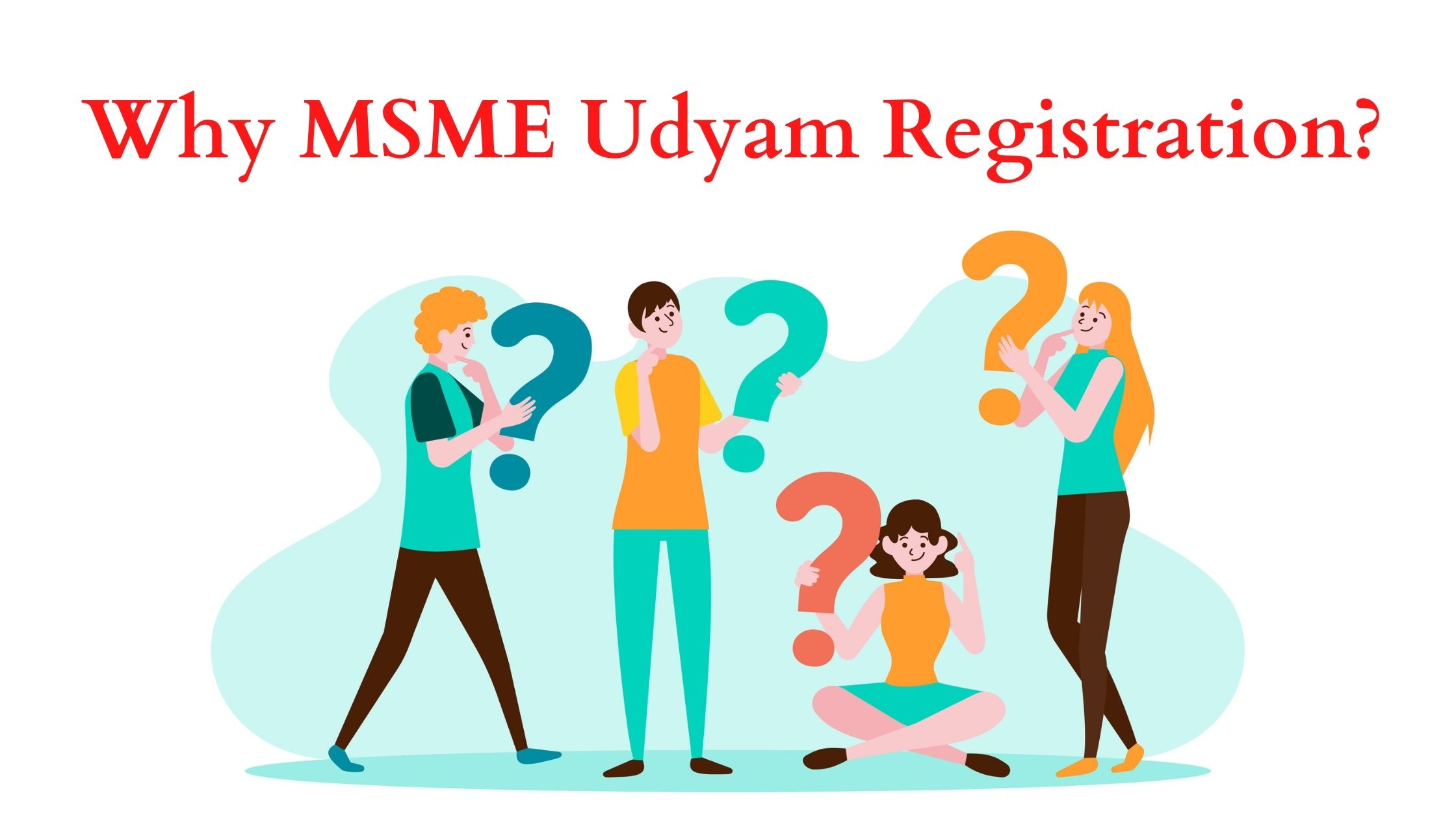 Why MSME Udyam Registration is essential for your business?
Small businesses are the backbone of the economy. The government has made MSME Udyam registration free and it is now known as Udyam registration. Complete your business register under the ministry of MSME - Micro, Small and Medium Enterprises, and get certified as Udyam. And avail more benefits to enjoy Government Schemes.

There are a lot of benefits which you can extract if you are registered under MSME. The registration of MS Ami is legally mandatory but the registration would help you in extracting various benefits from the government. These benefits can include low-interest rates in credit, you can receive incentives on the product on export, reservation statutory aids, etc. Based on the classification between the micro, small, and medium Enterprise size the benefits of MSME Enterprises are received.


You can get Collateral free loans if you are registered under MSME and also you can get cheaper interest rates on your loan.


You can get 1% off on your interest rate in overdraft


Obtaining government license and certifications are easy if you are registered under MSME. Suppose you have taken an ISO certification, if you put in an application the money you have put in for obtaining the certificate will also be reimbursed by the government.


There are many government tenders which are solely released for MSME business only.


If you want to apply for a patent for your technology you can get up to 50% off with no promo code required.


You will receive protection against delayed payments. For example, if a customer has bought a product from you it is their responsibility to provide you the payment within 15 to 45 days. If the customer fails to pay within 45 days then they will also have to provide a compound interest on the principal amount which is three times the interest rate in the bank.


You can get off on your electricity bill if you put an application as an MSME business.


The government has released many good MSME schemes:
Udyog Aadhaar- using your Udyog Aadhar number you can receive cheaper loans and subsidies from the government.


Zero defect zero effect- all the exporters are encouraged to export good quality materials and products outside India so that those products aren't rejected. With every successful export, the exporter can claim a subsidy.


Quality management standards and quality Technology tools- this is a training and awareness program in which renowned institution like Quality Council of India, National Recruitment Board for Personal and Teacher Training, Consultancy Development Corporation, National Productivity Council, and Standardization Testing and Quality Certification will teach you how the MSME owners can use today's technology to improve the quality and technology of your current product so that your manufacturing faces minimum rejection and rework to save your stock from getting deadstock or pile up stock. The objective of the scheme is to encourage and sensitize MSME owners to update your current orders. This scheme includes a day awareness campaign, 2 days workshop in metro cities, a national level workshop in Delhi, implementation in some selective clusters, and polytechnic teacher Training is also included.


Grievance system- through this system you can complain regarding any matter and your complaint would be timely resolved or reverted.
Incubation- Here the government is funding the new innovative ideas up to 80%. The government will not fund every idea but if your idea is selected, the government will cover 80% of the cost.


Credit linked capital subsidies- here the government is encouraging all the business to reinvest in modern technologies and the businesses would receive a subsidy on the technology and they can approach the bank for loans as well.


Women Entrepreneurship- if any woman wants to start her business she would be provided with the counseling, training and also capital support would be provided to encourage how to grow the business.
MSME Udyam registration can be very beneficial for businesses. The government is taking every step to encourage the small businesses by providing subsidies and capital to the business. You would only need your aadhaar and pan number for MSME free registration. Your investment should be less than 5 crores only then you are applicable for MSME registration. Registration with Eudyogaadhaar.org would complete your MSME registration and you can enjoy the subsidies and facilities provided by the government. Without MSME registration you cannot run your business legally so it is recommended for you to do the registration.
You can free to reach our registration executive 24*7 customer support team through filing the
complaint form at https://eudyogaadhaar.org/
and we will then reply to you shortly with the solution.
Follow us on
Facebook
for latest news and updates.
MSME REGISTRATION PROCEDURE - FAST AND EASY..!!

Fill the MSME application form

Make online payment to confirm your application

Our executive will process your application

Certificate will be sent to e-mail id
This website is a property of a consultancy firm, providing consultancy services w.r.t. MSME / Udyog Aadhaar Registration.
We expressively declare that we are private consultants. We have no relation or we do not represent any government official or any government department such as MSME deptartment, etc.
SECURED BY SSL
Payment Methods